MeiMei Chinese Restaurant in Swift Current, SK
MeiMei Chinese Restaurant is a family restaurant and has been a cornerstone in the Swift Current community since 2004.
Our Chinese restaurant is known for its modern interpretation of classic Western Chinese dishes. We insist in using only fresh high quality ingredients on our menu because "MeiMei" means delicious and fresh and we stand for our name! Please come in and let our friendly staff serve you with our outstanding Chinese cuisine!
We also offer Gluten Free Options and can Cater your next Birthday Party or Group Dinner Event.
Our Daily Buffet is back! (Closed Mondays)
Lunch Buffet 11:30am – 2:00pm
Supper Buffet 5:00pm – 8:00pm

Special Combinations
Combo #1 – $16.25
Spring Roll (2)
Chicken Fried Rice
Ginger Beef
Chicken Chow Mein
Combo #3 – $17.55
Dried Ribs
Chicken Balls
Pork Souvlaki
Chicken Fried Rice
Combo #2 – $16.25
Spring Rolls (2)
Dried Garlic Ribs
Ginger Beef
Chicken Fried Rice
Combo #4 – $17.55
Pan Fried Shrimp
Sweet & Sour Pork
Chicken Chow Mein
Dried Ribs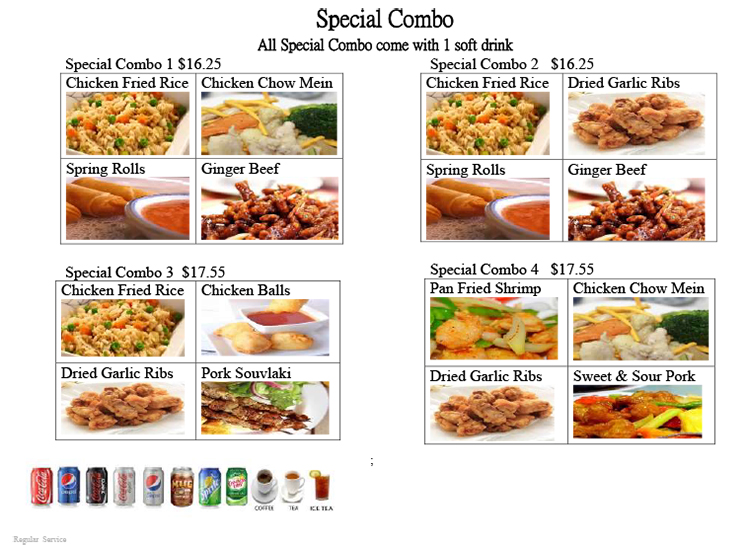 Chef's Suggestions
War Wanton Soup – $13.55
Deep Fried Won Ton – $12.55
BoLo Pork – $13.55
Almong Guy Ding – $14.25
Spicy Chicken – $16.55
Cantonese Chow Mein – $15.95
Chow Har Kew – $18.95
Special Hot Plate – $20.55
Dinner A – $13.95
Egg Roll
Chicken Chow Mein
Chicken Fried Rice
Dinner B – $13.95
Egg Roll
Sweet & Sour Ribs
Chicken Fried Rice
Dinner C – $14.55
Dried Ribs
Chicken Balls
Chicken Fried Rice
Dinner D – $14.55
Dried Ribs
Breaded Shrimp
Chicken Chow Mein